THE FACTS – on disconnection of services
Final notices are issued in line with the City's Credit Control and Debt Collection Policy, which is informed by the Local Government Municipal Systems Act.
Due to constant complaints on credit control matters, the City draws residents' attention to the following facts:
• The monthly account due date is the date when a customer's account becomes due and payable. This date reflects on the account statement.
• The due date is determined by the Council from time to time. 
• Only payments receipted through the City's financial system on, or before, the due date is deemed to have been received.
• Payments made through third party vendors is seen as received by the City only once it has gone through its financial system. Take note of Notice 7 on the reverse side of the account statement that third party system payments must be made no later than 7 days prior to due date.
• If full payment is not made before or on the due date, the unpaid amount becomes arrears and a final demand notice (pre-termination notice) is sent. This tells the consumer that their account is in arrears and services can be cut/restricted.
• An administrative fee is charged (as per the tariff provisions) with regard to any action taken in demanding payment from the customer or reminding through a notice delivered by mail, hand or any electronic means available that the account is in arrears.
• Water and electricity supply can be cut or restricted if payment, or arrangements to pay, is not made on the due date as per the final notice. This relates to any monies owed to the City such as services, property rates and taxes. In the case of pre-paid electricity, the selling of units will be withheld until monies owed is paid, or arrangements made, by the due date on the final notice issued.
It is the customer's responsibility to ensure their account is paid in time. To assist, in addition to monthly posted statements, the City has made alternative platforms available where you can check, and even pay your account, online through https://siyakhokha.ekurhuleni.gov.za/
Municipal Mysteries: When "actuals" aren't "actuals"
Introduction
This article canvases what a consumer can do to protect himself when a municipality is charging him according to "actual" readings for electricity or water consumption, but where the readings used by the municipality are clearly not 'actuals' and thus cannot be true and proper readings.
Actuals versus Estimates                                                                                                                                                           
There are two types of readings that a municipality can use to bill a consumer for metered consumption for electricity and water. The first is an "estimated" reading, which is where the municipality does not actually go to your property and take a reading from the meter at your property but rather uses an algorithm to guess how much electricity or water you have consumed.  This is contrasted with an "actual" reading, which is used to bill a consumer when a meter reader has been to the property and has physically taken a reading from the meters at the property, or when there are "smart" meters at the property transmitting the readings to the municipality periodically.
Inaccurate Estimated Readings
If you have received an invoice with estimated readings that are wildly out of kilter with the reading as it appears on your meter, then you need to raise a billing query with the municipality concerned and ask that it verify your actual readings, and bill you accordingly.
Inaccurate "Actual" Readings
The focus of this article, however, is not to deal with scenarios where consumers are billed on estimates, but where they are billed on "actuals" that are not correct. This might have happened because the smart meter is not working properly and incorrect readings have been transmitted to the municipality, or because the meter readers have applied the incorrect readings to the meters (i.e. they have "mixed up" meters and meter readings), or because the meter reader has incorrectly recorded the actual readings from the meter.
These types of errors are difficult to fix because certain municipalities (such as Johannesburg) will often tell consumers that they are not allowed to raise a query disputing "actual" readings, because to their minds there is no query to raise – on their systems the meter reading reflects as an actual reading and is thus correct.
This is unlawful – a municipality cannot lawfully refuse to allow a consumer to log a billing query or dispute simply on the basis that what appears on the municipality's system is correct and the consumer therefore must be wrong, because (logically) the possibility always exists that the municipality's system is wrong and that the consumer is right.
If this happens to you, and you are not permitted to log a query with Johannesburg municipality, keep proof that you have attempted to log the query and then proceed on to the next 'step' in the municipality's prescribed dispute resolution procedure, which is to deliver a written complaint to the municipality. We would advise outlining in the written complaint that you had attempted to log a query but were unable to do so due to the refusal of the municipality's consultants to allow this to happen. It is also advisable for a person trying to log such a query, to obtain an interaction number from the municipality which will serve as proof of the attempt to log a query. The municipality will not issue you with a reference number for the query if it is not of the view that it is a valid query and so the interaction number is the next best thing that a consumer can keep as proof of the attempt in logging the query.
Deemed Readings
A deemed reading occurs where the municipality is adjusting a consumer's account to bill the consumer for a guestimate of consumption in the situation where the meter was not working at all, or was faulty, or where there was no meter.  In these kinds of situations, there is no actual and/or reliable recording of the consumption at the property, and so the municipality does an extrapolation to guess what the consumer's consumption was.  The municipality will normally install a new (functioning) meter, take three month's readings, and then calculate the average and apply it to the period where there were no accurate/reliable readings.  Deemed readings appear on invoices in Joburg as 'actual' readings and this makes it very confusing for consumers who can clearly see that the reading indicated on their invoice cannot possibly be correct – for example in the situation where the meter has been removed from the property but the municipal invoice indicates that it is billing the consumer on an actual reading for a period after the meter was removed.
If the problem is that the reading on your invoice is a "deemed" reading, then the first thing you need to do is ascertain from the municipality, the basis of the calculation for that deemed reading and determine whether that calculation is arithmetically correct and whether it is fair. If it turns out that there is either a calculation error or that the municipality has loaded the account with unfair charges, then the consumer can follow the standard dispute resolution process provided for by that particular municipality in taking it up with them.  This would include first logging a query (but if you are not permitted to log a query because the municipality's system says that the reading is an 'actual', then skip this step as advised above).
Conclusion
In the event that you discover that the actual (or deemed) readings on the account are not correct, and you have difficulties in resolving any billing dispute resulting from this problem with the municipality, you may need to chat to us for assistance because it can be difficult to navigate the many laws and procedures prescribed in order for resolving these kinds of disputes.
Municipality Documentation
---
Below is all the municipality documents for submissions and City planning documents we have. We make these availble to you to asist you as far as possible. Some of the Municipality's are City of Tshwane, Ekurhuleni, Brakpan, Kungwini, Madibeng, Nokeng, Witbank, Durban, King Sabata Dalindyebo municipality, Emalahleni Local Municipality. NOTE: We will appreiciate If you have documents from other Municipalities please send them to us.
Contact us via our contact us page. Thank you
Local Authority Documents
City of Tshwane Municipality
Town Planning Scheme 2008/04/23

City of Tshwane Town Planning scheme as on 2008
Tshwane TPS APPOVED COUNCIL 20080423
| | |
| --- | --- |
| Land use applications Fees | Land use applications Fees ANNEXURE H15.1 |
| | |
| --- | --- |
| Consent Use | Consent Use General Clause 16 June 08 |
ConsentUseGeneralClause16 June 08
| | |
| --- | --- |
| Permission TTS | PermissionTTS June 08 |
| | |
| --- | --- |
| Removal of Title Cond or amendment | Removal of Title Cond or amendment- June 2008 |
Removal of Title Cond or amendment- June 2008
| | |
| --- | --- |
| Rezonig | Rezonig Section 56 – June 2008 |
Rezonig Section 56 – June 2008
| | |
| --- | --- |
| Rezoning | Rezoning Section 28 June 08 |
| | |
| --- | --- |
| Second dwelling | Second dwelling Permission TTS June 2008 |
Second dwelling Permission TTS June 2008
| | |
| --- | --- |
| Removal and rezoning | Simultaneous Removal and rezoning (3 of 1996) June 08 |
Removal and rezoning (3 of 1996) June 08
| | |
| --- | --- |
| Building inspec stages | Building inspec stages |
| | |
| --- | --- |
| Building plan submission (OLD) | Building plan submission |
| | |
| --- | --- |
| Comments of another party | Comments of another party |
| | |
| --- | --- |
| Engineer appointment | Engineer appointment |
| | |
| --- | --- |
| Interpartite comment | Interpartite comment |
| | |
| --- | --- |
| Interpartite sectional title | Interpartite sectional title |
| | |
| --- | --- |
| Restriction of Access | Restriction of Access |
| | |
| --- | --- |
| Building plan submission (NEW) | RIMIXC 2 BOU PLANNE |
| | |
| --- | --- |
| Special power of attorney | Special power of attorney |
| | |
| --- | --- |
| Tshwane Town planning Scheme_infosheet | TshwaneTownplanningScheme_infosheet |
Building plan submission TshwaneTownplanningScheme_infosheet
City of Johannesburg
| | |
| --- | --- |
| Building plan application | Building plan application |
| | |
| --- | --- |
| Building line relax Application | Building line relax Application |
| | |
| --- | --- |
| Engineer Appointment | Engineer Appointment |
Ethekwini Muncipality / Durban
| | |
| --- | --- |
| Plan Submission | Building plan application |
| | |
| --- | --- |
| power of attorney | power of attorney |
| | |
| --- | --- |
| UNDERTAKING AND INDEMNITY | NORTH/SOUTH CENTRAL LOCAL COUNCILS – DURBAN |
| | |
| --- | --- |
| Plan Approval Guidelines | Plan Approval Guidelines |
| | |
| --- | --- |
| proforma_letter_of_authority | proforma_letter_of_authority |
proforma_letter_of_authority_pdf
REQUIREMENTS IN RESPECT OF "MINOR BUILDING WORK

REQUIREMENTS IN RESPECT OF "MINOR BUILDING WORK" AS CONTEMPLATED IN SECTION 13 OF THE NATIONAL BUILDING

REGULATIONS AND BUILDING STANDARDS ACT NO. 103 OF 1977
| | |
| --- | --- |
| Engineer Appointment | Letter of Appointment |
Ekurhuleni Municipality / Brakpan
| | |
| --- | --- |
| Building plan scrutany check list | Check List |
Kungwini / Bronkhorstspruit Municipality
| | |
| --- | --- |
| Plan_submission | Application to approve |
| | |
| --- | --- |
| Engineer Appointment | Letter of Appointment |
Madibeng / Brits Municipality
| | |
| --- | --- |
| Plan_submission | Application to approve |
Nokeng Tsa Taemane Municipality
| | |
| --- | --- |
| Plan_submission | Application to approve |
Application for approval of Building Plans
| | |
| --- | --- |
| Engineer Appointment | Letter of Appointment |
Emalahleni Municipality / Witbank
| | |
| --- | --- |
| Building line relaxation | Building line relaxation |
| | |
| --- | --- |
| Building plan appl | Building plan appl |
| | |
| --- | --- |
| Eng appointment | Eng appointment |
King Sabata Dalindyebo Municipality
| | |
| --- | --- |
| APPLICATION FOR APPROVAL OF BUILDING PLANS | APPLICATION FOR APPROVAL OF BUILDING PLANS |
Consumers Pay For Fresh Air On Their Water Bills
Burst water mains in Gauteng. Picture courtesy Pretoria East Record
By JANEK SZYMANOWSKI
Every time a water pipe bursts, there's a good chance that the municipality will rake in thousands of rands from false water meter readings. This is because air passing through consumers' water meters and water pipes gives false readings that are charged automatically on all water bills.
So if you suddenly have a higher-than-usual water account, this could be the explanation.
If you have a pre-paid meter you are even more at risk. And if you are not the owner of the property, if your landlord refuses to ask the municipality to investigate, chances are you will simply have to pay up!
Investigation by sans10400.co.za
After a personal experience (see below) and numerous queries to www.sans10400.co.za about what appeared to be inflated water accounts we decided to investigate. Scouring through social media and reading many posts and questions on various group websites, it soon became clear that the issue of inflated water bills is commonplace countrywide. At times costs seem to run into thousands of rands over the normal monthly average charge people are used to paying.
By chance, I mentioned the problem to a former management employee from the Benoni Municipality, who said that with the large number of mains supply pipes breaking and leaking in the area that had to be repaired, they had had numerous queries of extremely high water bills in the Benoni area. On investigation he discovered that the air passing through the pipes created these very high meter readings.
Some years later, having moved to the Helderberg, he experienced exactly the same occurance at his business premises after a major water pipe burst. He queried what was an outrageously high account, and the local municipality reversed the amount.
But how widespread is this problem?
Air Entering Burst Water Pipes is a Common Problem
I contacted Jacques-Louis van der Linde, senior technical specialist at Metering one of the main suppliers of water metering equipment to municipalities in South Africa. Was the chief supplier of water meters in South Africa until a few years ago when they were bought out the company. The reality is that the water meters this company put in place now utilize old, out-dated technology. Rather than measuring water as such, these meters measure all flow through the meter – including air.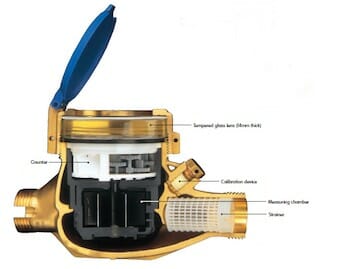 A cutaway of a standard traditional water meter with the impeller clearly visible.
Van der Linde confirmed that the problem does often arise when there is a break in the water supply and air gets into the pipework. He also explained that the majority of water meters use an impeller to measure the amount of water passing through the meter (see picture below). When there is a leak in the pipes delivering water to suburban properties, municipal workers have to shut off the water supply whilst the broken section of water supply pipe is being repaired. When the mains are reopened again, there can be a large amount of air that has entered the pipework.
Because water is denser than air, the air is compressed and passes through the pipe, and subsequently through the meter, very fast, making the impeller inside the meter literally spin out of control. Depending on the amount of air involved, this can cause your meter to run up an unreal, totally false water reading – which goes hand-in-hand with very high water bills.
New Pre-Paid Meters Problematic
An even greater problem arises from the "new" pre-paid water meters. According to van der Linde, there are more than 250,000 of these pre-paid meters already installed countrywide. The problem is that consumers have absolutely no recourse, as money for the meter must be paid up front, and in spite of your constitutional rights to water, if you are cut off, you simply have to top up the meter.
Nevertheless, we may be better off in South Africa than in other African countries that practice "water rationing".
What happens there is that the water is switched off during the day, and when it is turned back on, the air passing through the meter literally eats up all their money. The saddest part is that most of these people are in poorer African countries, and they cannot afford to keep paying for air!
Have I Been Paying for Air?
Anyone whose water bills suddenly increase for no apparent reason should note whether increased "usage" corresponds with burst water mains in the area.
While leasing a property in Somerset West several years ago, I noticed that the council water meter hadn't been touched for months. The fact that there was an ants' nest over the meter glass convinced me no readings had been done (see pic below). Just to cover myself I had taken photographs of the meter a few months apart, in September, November and again in February.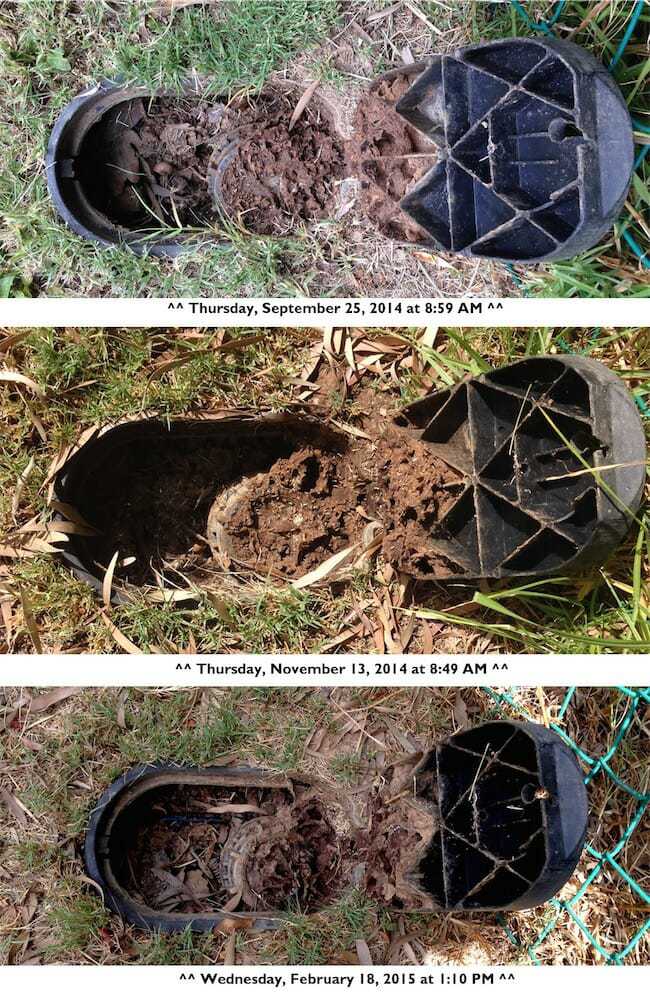 The average water bills per month for September, October and November were between R400 and R500. In December this increased to R965; in January to R1,181; and then in February it went up to R1,547.
After a fairly unpleasant conversation and emails with the landlord/estate agent who said that I had obviously watered the garden and filled up the swimming pool, which was not true, I approached the local council and local councillor. Nobody was interested in my problem, maintaining that the readings on the water bills were correct. Their explanation about the ants' nest was that after each reading by the council meter reader, the ants had come back and re-established their nest. They also maintained that there could be a leaking pipe on the property. They refused to investigate further, stating that the property owner was the only person who could deal with council on this issue. He refused and wasn't interested in doing his own investigation into possible leaking pipework.
I then cleaned the meter and shut off all the taps as well as the mains water for half a day to see if there was any usage on the meter. There was none, proving it was not a leaking pipe on the property. But in the end I was forced to pay up.
In retrospect, I realized that there had been a number of water "outages" during the periods when the water bills were so high. But unfortunately I realized this too late, and had to write the bills off to experience.
We subsequently moved to another area, in a different municipality and recently had two breaks in the water mains. I am waiting to see what the bill will be, and if it is any higher than usual, will take immediate action.
So What Should You Do?
My advice to anyone who has a break in their water supply, and notices air escaping through their taps when the water flow comes back and they turn the taps on, is make a note of the date and the time of the interruption, and if you are on a billing system (rather than a pre-paid meter), to challenge the council when you get your bill. If you have a pre-paid meter, challenge the council immediately.
SABS Assessing a New Water Meter That Won't Register Air
The good news is that he has a new meter that is currently being assessed by the SABS. This meter can register the density of whatever is passing through the pipes, and if it is not the density of water, it will not register and push up the meter reading.
But it's going to take a while for all the old meters to be replaced. So in the meantime, be vigilant.
Disconnection of electricity or water: Legal or illegal?
This article examines the legal issue of when a disconnection of electricity or water by a municipality will be lawful.
Dispelling the Myth
Many people think that a municipality is not entitled to disconnect one service if that service is fully paid up (but where another service is in arrears). This is not correct. A municipality is fully entitled to disconnect the supply of any service whatsoever supplied to a property, where there are undisputed arrears owing in connection with any other service billed in connection with that property.
Pre-Termination Notices
The law provides that a municipality must give the consumer (and the owner of the property, if the consumer of the services at the property is not the owner) a minimum of 14 days written notice of termination of the supply of electricity and water. If this notice is not given to the occupants of the property (and the owner, if the owner is not the same as the occupant) at all then the disconnection is illegal.
Furthermore if less than 14 days has elapsed between the date of delivery of the pre-termination notice and the date of disconnection, then similarly the disconnection is illegal.
The purpose of giving a person 14 days is to allow that person to respond to the municipality within that time and to raise any disputes about the charges that are purportedly owing, or alternatively to allow the responsible person to make payment of the arrears or make other payment arrangements with the municipality such as by entering into an instalment payment plan. If a consumer is denied this opportunity, then this is a violation of that person's rights in terms of our administrative law and Constitution and the disconnection is accordingly unlawful.
Pending Queries
It is unlawful for a municipality to disconnect a consumer whilst there is a query pending in relation to that consumer's account, provided that the quantum or value of the disputed charge equals or exceeds the amount of arrears on the account. For example, if you have lodged a query in relation to R50 000 of disputed water charges, but at present your bill is sitting at R100 000 (which include the R50 000 of disputed water charges and another R50 000 of other undisputed charges) then the query logged in relation to the disputed water charges will not protect you from disconnection because there are other arrears owing which are undisputed. You can legitimately be terminated for non-payment of undisputed arrears, even if you have raised a dispute in relation to other charges on the same account.
Payment of Current and Undisputed Charges
In terms of the bylaws of most municipalities, a query logged in relation to any municipal account will only remain valid for so long as the customer continues to pay the current and undisputed charges billed to it on a monthly basis. What this means is that if you fail to pay your current charges (or any portion of your current charges that are undisputed) you can be disconnected, even if you have an existing and unresolved query in relation to other disputed charges on your account.
In addition, some municipalities provide that where you dispute the charges billed on a monthly basis for any particular service (for example, electricity, perhaps because you are of the view that your meter is faulty or the charges are too high, being based on inflated estimated charges) you must then pay the average of the prior three month's undisputed charges for that service (i.e. the last time that you did not dispute your electricity charges, you take the average of three months for that service, and make payment of that amount for electricity rather than the amount currently billed to you) in addition to all other undisputed charges. Failure to make payment of current and undisputed charges in terms of the relevant by-laws/policies will render you subject to credit control action, which could include disconnection or being summonsed to court to pay.
Prior Owners' Debt
A recent case in the Gauteng Local Division of the High Court in Johannesburg offers persuasive authority (but does not create legal precedent) for the principal that a municipality may not terminate a purchaser's electricity or water supply as a result of outstanding debts incurred by the prior owner of the property. This principal has yet to be tested in court and so at the moment there is no conclusive answer to this question in law, although until another judgment settles the issue, there is at least persuasive authority to support purchasers battling with this issue.
Allocation of Payments
Although the manner in which payment is allocated to a municipal account is not directly linked to the issue of when a municipality is lawfully entitled to disconnect or not, it does impact on the legality of the disconnection indirectly. This is because if a consumer is disputing any portion of his account, and that consumer does not before making payment of any undisputed charges on that same account, notify the municipality in writing that the payment made must be allocated only to the undisputed charges, a municipality will then have the right in law to allocate that payment in any manner that it wishes.
This may (or may not) result in the consumer's payment (which he intended to be for undisputed charges) being allocated towards a portion of, and settling a portion, the disputed charges that the consumer was not intending to pay. When this happens a consumer will be very surprised by the advice given to him by the municipality that the dispute that he logged is no longer valid (it having been settled by his payment of the disputed charges), because he would be of the view that his dispute should be valid and pending seeing that he had continued to pay his current and undisputed charges on a monthly basis.
As a result the consumer's query will be closed (the disputed charges having been paid) and he would be liable to disconnection or other credit control action in respect of the unpaid current and undisputed charges which reflect as unpaid on the municipality's systems.
Conclusion
It is imperative that consumers understand and know their right in relation to disconnections and threats of disconnections made by the municipalities in respect of purported arrears in relation to municipal accounts. This simple knowledge may be sufficient to assist you in avoiding what could be a very pleasant, time consuming, and costly exercise, when having to deal with an illegal disconnection or your electricity or water supply.
House Without Approved Plans
The Implications of Selling a House
Without Approved Plans

If you are selling your house, and don't have approved plans, you could find yourself in a lot of trouble. And if you are buying a house, and don't ask whether the seller has approved plans, you might end up inheriting some very expensive problems.
Legal Implications of Selling a House Without Approved Plans
Since the law requires everybody to have plans drawn up in a particular manner, and approved by the local authority in their area, it stands to reason that every house will have plans. But this is not always the case, and a lack of approved building plans is clearly a major problem for many people buying and selling houses and other buildings in all parts of South Africa.
Hardly a day goes by that we don't get asked questions on this website that relate to issues concerning plans. Sometimes people only discover that there are no plans years after they have bought a property, either because they eventually want to do alterations, or because they want to sell. Other times people find at the point of sale that a house they are buying does not have plans, and they want to know whose responsibility it is to have plans drawn up retrospectively ("as built").
The reality is that if alterations and additions have been carried out on a property without municipal (local authority) approval and the property is then sold, it can become quite a complex legal matter.
An article by STBB Smith Tabata Buchanan Boyes that we have referenced gives some clarity about the implications of selling a house without approved plans.
Are Building Plans and Building Approval Always
Required for Houses?
As STBB explain, the National Building Regulations and Building Standards Act specifies the need for building plans and approval. More specifically, it is the local authority that governs exactly what can be done in terms of its zoning regulations and the NBR. So it is they that give approval (or deny it) for all building work and renovations on ALL properties. "Minor building work" is viewed differently and most municipalities will be more lenient when it comes to minor building work.
The Act states that the municipality, at its own discretion, may be approached for a relaxation of the necessity to obtain approval of plans. But note that this must be asked for and approval received in writing.
How the Issue of "Voetstoets" Affects
Building Approval and Plans
The agreement made between two parties when a property is sold will in most instances include a voetstoets clause. Essentially this clause indicates that the purchaser accepts the risk relating to defects existing at the time of the sale, patent or latent (but not visible). The exceptions to this clause are instances where the seller deliberately and fraudulently conceals latent defects from the purchaser, that he or she was aware of at the time – in which case the seller will remain liable for these defects. But of course the purchaser will have to provide evidence that the seller knew what was wrong.
Note that the position is somewhat altered if the Consumer Protection Act applies to the agreement between the parties, e.g. where the seller is a developer.
Our law takes into account that any property with buildings erected without municipal approval is a property with a latent defect. The voetstoets clause will normally cover latent defects and a seller will not automatically attract liability if he sells a property with unauthorised building works. But if the seller knows that there are no plans and he organized and did the renovations himself, and he deliberately does not disclose this fact (with the intention to defraud the purchaser), the seller cannot hide behind the voetstoets clause.
Problems That Can Arise
The lack of approved plans could lead a municipality to refuse to allow any further renovations a purchaser might have had planned. In the worst case scenario the municipality could order that the illegally erected structure or additions be demolished.
A (latent or patent) defect that is of a significant nature, and affects the use and enjoyment of the property, does allow the purchaser certain remedies. The most far-reaching of these is cancellation of the agreement, which he is entitled to do, if the purchaser can prove that the defect is so serious that he would not have bought the property had he known this. Other courses of action include the reduction in purchase price or a claim for damages, depending on the seriousness of the defect and the specific circumstances involved.
In many cases an offer to purchase a house will be dependent on the purchaser obtaining home-loan finance from a bank or other institution. And in most instances, (though not all), the financial institution will want to see up-to-date approved plans before finance will be granted. If the plans lodged with council do not match the house as it stands, then the sale could fall through and set the seller's plans back for quite a length of time, together with additional costs to rectify the problem.
The local authority is also entitled to levy fines on any "illegal" building work that was done without approval.
There is more on the "Voetstoets Clause" and the CPA (Consumer Protection Act)
Councils Must be Ruthless with Unsafe Buildings
Councils Must be Ruthless with Restricting Occupation of Unsafe Buildings
Lorna Court is situated on the corner of Twist and Wolmarans Streets in Joubert Park, Johannesburg, The building was built in the 1930s but was condemned after a fire in 2005. It's said that it's owners had no insurance but are not willing to sell the site.
I think it must be terrifying to be woken at 04:00 in the morning by a thunderclap that makes the whole building shudder. Then, in a confused state, you realise your bed's still shaking and, no, it wasn't thunder, it was the building fal