THE FACTS – on disconnection of services
Final notices are issued in line with the City's Credit Control and Debt Collection Policy, which is informed by the Local Government Municipal Systems Act.
Due to constant complaints on credit control matters, the City draws residents' attention to the following facts:
• The monthly account due date is the date when a customer's account becomes due and payable. This date reflects on the account statement.
• The due date is determined by the Council from time to time. 
• Only payments receipted through the City's financial system on, or before, the due date is deemed to have been received.
• Payments made through third party vendors is seen as received by the City only once it has gone through its financial system. Take note of Notice 7 on the reverse side of the account statement that third party system payments must be made no later than 7 days prior to due date.
• If full payment is not made before or on the due date, the unpaid amount becomes arrears and a final demand notice (pre-termination notice) is sent. This tells the consumer that their account is in arrears and services can be cut/restricted.
• An administrative fee is charged (as per the tariff provisions) with regard to any action taken in demanding payment from the customer or reminding through a notice delivered by mail, hand or any electronic means available that the account is in arrears.
• Water and electricity supply can be cut or restricted if payment, or arrangements to pay, is not made on the due date as per the final notice. This relates to any monies owed to the City such as services, property rates and taxes. In the case of pre-paid electricity, the selling of units will be withheld until monies owed is paid, or arrangements made, by the due date on the final notice issued.
It is the customer's responsibility to ensure their account is paid in time. To assist, in addition to monthly posted statements, the City has made alternative platforms available where you can check, and even pay your account, online through https://siyakhokha.ekurhuleni.gov.za/
Municipal Mysteries: When "actuals" aren't "actuals"
Introduction
This article canvases what a consumer can do to protect himself when a municipality is charging him according to "actual" readings for electricity or water consumption, but where the readings used by the municipality are clearly not 'actuals' and thus cannot be true and proper readings.
Actuals versus Estimates                                                                                                                                                           
There are two types of readings that a municipality can use to bill a consumer for metered consumption for electricity and water. The first is an "estimated" reading, which is where the municipality does not actually go to your property and take a reading from the meter at your property but rather uses an algorithm to guess how much electricity or water you have consumed.  This is contrasted with an "actual" reading, which is used to bill a consumer when a meter reader has been to the property and has physically taken a reading from the meters at the property, or when there are "smart" meters at the property transmitting the readings to the municipality periodically.
Inaccurate Estimated Readings
If you have received an invoice with estimated readings that are wildly out of kilter with the reading as it appears on your meter, then you need to raise a billing query with the municipality concerned and ask that it verify your actual readings, and bill you accordingly.
Inaccurate "Actual" Readings
The focus of this article, however, is not to deal with scenarios where consumers are billed on estimates, but where they are billed on "actuals" that are not correct. This might have happened because the smart meter is not working properly and incorrect readings have been transmitted to the municipality, or because the meter readers have applied the incorrect readings to the meters (i.e. they have "mixed up" meters and meter readings), or because the meter reader has incorrectly recorded the actual readings from the meter.
These types of errors are difficult to fix because certain municipalities (such as Johannesburg) will often tell consumers that they are not allowed to raise a query disputing "actual" readings, because to their minds there is no query to raise – on their systems the meter reading reflects as an actual reading and is thus correct.
This is unlawful – a municipality cannot lawfully refuse to allow a consumer to log a billing query or dispute simply on the basis that what appears on the municipality's system is correct and the consumer therefore must be wrong, because (logically) the possibility always exists that the municipality's system is wrong and that the consumer is right.
If this happens to you, and you are not permitted to log a query with Johannesburg municipality, keep proof that you have attempted to log the query and then proceed on to the next 'step' in the municipality's prescribed dispute resolution procedure, which is to deliver a written complaint to the municipality. We would advise outlining in the written complaint that you had attempted to log a query but were unable to do so due to the refusal of the municipality's consultants to allow this to happen. It is also advisable for a person trying to log such a query, to obtain an interaction number from the municipality which will serve as proof of the attempt to log a query. The municipality will not issue you with a reference number for the query if it is not of the view that it is a valid query and so the interaction number is the next best thing that a consumer can keep as proof of the attempt in logging the query.
Deemed Readings
A deemed reading occurs where the municipality is adjusting a consumer's account to bill the consumer for a guestimate of consumption in the situation where the meter was not working at all, or was faulty, or where there was no meter.  In these kinds of situations, there is no actual and/or reliable recording of the consumption at the property, and so the municipality does an extrapolation to guess what the consumer's consumption was.  The municipality will normally install a new (functioning) meter, take three month's readings, and then calculate the average and apply it to the period where there were no accurate/reliable readings.  Deemed readings appear on invoices in Joburg as 'actual' readings and this makes it very confusing for consumers who can clearly see that the reading indicated on their invoice cannot possibly be correct – for example in the situation where the meter has been removed from the property but the municipal invoice indicates that it is billing the consumer on an actual reading for a period after the meter was removed.
If the problem is that the reading on your invoice is a "deemed" reading, then the first thing you need to do is ascertain from the municipality, the basis of the calculation for that deemed reading and determine whether that calculation is arithmetically correct and whether it is fair. If it turns out that there is either a calculation error or that the municipality has loaded the account with unfair charges, then the consumer can follow the standard dispute resolution process provided for by that particular municipality in taking it up with them.  This would include first logging a query (but if you are not permitted to log a query because the municipality's system says that the reading is an 'actual', then skip this step as advised above).
Conclusion
In the event that you discover that the actual (or deemed) readings on the account are not correct, and you have difficulties in resolving any billing dispute resulting from this problem with the municipality, you may need to chat to us for assistance because it can be difficult to navigate the many laws and procedures prescribed in order for resolving these kinds of disputes.
Municipality Documentation
---
Below is all the municipality documents for submissions and City planning documents we have. We make these availble to you to asist you as far as possible. Some of the Municipality's are City of Tshwane, Ekurhuleni, Brakpan, Kungwini, Madibeng, Nokeng, Witbank, Durban, King Sabata Dalindyebo municipality, Emalahleni Local Municipality. NOTE: We will appreiciate If you have documents from other Municipalities please send them to us. 
Contact us via our contact us page. Thank you
Local Authority Documents
City of Tshwane Municipality
 

Town Planning Scheme 2008/04/23

City of Tshwane Town Planning scheme as  on 2008
Tshwane TPS APPOVED COUNCIL 20080423
| | |
| --- | --- |
| Land use applications Fees | Land use applications Fees ANNEXURE H15.1 |
| | |
| --- | --- |
| Consent Use | Consent Use General Clause 16 June 08 |
ConsentUseGeneralClause16 June 08
| | |
| --- | --- |
| Permission TTS | PermissionTTS June 08 |
| | |
| --- | --- |
| Removal of Title Cond or amendment | Removal of Title Cond or amendment- June 2008 |
Removal of Title Cond or amendment- June 2008
| | |
| --- | --- |
| Rezonig | Rezonig Section 56 – June 2008 |
Rezonig Section 56 – June 2008
| | |
| --- | --- |
| Rezoning | Rezoning Section 28 June 08 |
| | |
| --- | --- |
| Second dwelling | Second dwelling Permission TTS June 2008 |
Second dwelling Permission TTS June 2008
| | |
| --- | --- |
| Removal and rezoning  | Simultaneous Removal and rezoning (3 of 1996) June 08 |
Removal and rezoning (3 of 1996) June 08
| | |
| --- | --- |
| Building inspec stages | Building inspec stages |
| | |
| --- | --- |
| Building plan submission (OLD) | Building plan submission |
| | |
| --- | --- |
| Comments of another party | Comments of another party |
| | |
| --- | --- |
| Engineer appointment | Engineer appointment |
| | |
| --- | --- |
| Interpartite comment | Interpartite comment |
| | |
| --- | --- |
| Interpartite sectional title | Interpartite sectional title |
| | |
| --- | --- |
| Restriction of Access | Restriction of Access |
| | |
| --- | --- |
| Building plan submission (NEW) | RIMIXC 2 BOU PLANNE |
| | |
| --- | --- |
| Special power of attorney | Special power of attorney |
| | |
| --- | --- |
| Tshwane Town planning Scheme_infosheet | TshwaneTownplanningScheme_infosheet |
Building plan submission TshwaneTownplanningScheme_infosheet
City of Johannesburg
| | |
| --- | --- |
| Building plan application | Building plan application |
| | |
| --- | --- |
| Building line relax Application | Building line relax Application |
| | |
| --- | --- |
| Engineer Appointment | Engineer Appointment |
Ethekwini Muncipality / Durban
| | |
| --- | --- |
| Plan Submission | Building plan application |
| | |
| --- | --- |
| power of attorney |  power of attorney |
| | |
| --- | --- |
| UNDERTAKING AND INDEMNITY | NORTH/SOUTH CENTRAL LOCAL COUNCILS – DURBAN |
| | |
| --- | --- |
| Plan Approval Guidelines | Plan Approval Guidelines |
| | |
| --- | --- |
| proforma_letter_of_authority | proforma_letter_of_authority |
proforma_letter_of_authority_pdf
REQUIREMENTS IN RESPECT OF "MINOR BUILDING WORK

REQUIREMENTS IN RESPECT OF "MINOR BUILDING WORK" AS CONTEMPLATED IN SECTION 13 OF THE NATIONAL BUILDING

REGULATIONS AND BUILDING STANDARDS ACT NO. 103 OF 1977
| | |
| --- | --- |
| Engineer Appointment | Letter of Appointment |
Ekurhuleni Municipality / Brakpan
| | |
| --- | --- |
| Building plan scrutany check list | Check List |
Kungwini / Bronkhorstspruit Municipality
| | |
| --- | --- |
| Plan_submission | Application to approve |
| | |
| --- | --- |
| Engineer Appointment | Letter of Appointment |
Madibeng / Brits Municipality
| | |
| --- | --- |
| Plan_submission | Application to approve |
Nokeng Tsa Taemane Municipality
| | |
| --- | --- |
| Plan_submission | Application to approve |
Application for approval of Building Plans
| | |
| --- | --- |
| Engineer Appointment | Letter of Appointment |
Emalahleni Municipality / Witbank
| | |
| --- | --- |
| Building line relaxation | Building line relaxation |
| | |
| --- | --- |
| Building plan appl | Building plan appl |
| | |
| --- | --- |
| Eng appointment | Eng appointment |
King Sabata Dalindyebo Municipality
| | |
| --- | --- |
| APPLICATION FOR APPROVAL OF BUILDING PLANS | APPLICATION FOR APPROVAL OF BUILDING PLANS |
Consumers Pay For Fresh Air On Their Water Bills
Burst water mains in Gauteng. Picture courtesy Pretoria East Record
By JANEK SZYMANOWSKI
Every time a water pipe bursts, there's a good chance that the municipality will rake in thousands of rands from false water meter readings. This is because air passing through consumers' water meters and water pipes gives false readings that are charged automatically on all water bills.
So if you suddenly have a higher-than-usual water account, this could be the explanation.
If you have a pre-paid meter you are even more at risk. And if you are not the owner of the property, if your landlord refuses to ask the municipality to investigate, chances are you will simply have to pay up!
Investigation by sans10400.co.za
After a personal experience (see below) and numerous queries to www.sans10400.co.za about what appeared to be inflated water accounts we decided to investigate. Scouring through social media and reading many posts and questions on various group websites, it soon became clear that the issue of inflated water bills is commonplace countrywide. At times costs seem to run into thousands of rands over the normal monthly average charge people are used to paying.
By chance, I mentioned the problem to a former management employee from the Benoni Municipality, who said that with the large number of mains supply pipes breaking and leaking in the area that had to be repaired, they had had numerous queries of extremely high water bills in the Benoni area. On investigation he discovered that the air passing through the pipes created these very high meter readings.
Some years later, having moved to the Helderberg, he experienced exactly the same occurance at his business premises after a major water pipe burst. He queried what was an outrageously high account, and the local municipality reversed the amount.
But how widespread is this problem?
Air Entering Burst Water Pipes is a Common Problem
I contacted Jacques-Louis van der Linde, senior technical specialist at Metering one of the main suppliers of water metering equipment to municipalities in South Africa. Was the chief supplier of water meters in South Africa until a few years ago when they were bought out the company. The reality is that the water meters this company put in place now utilize old, out-dated technology. Rather than measuring water as such, these meters measure all flow through the meter – including air.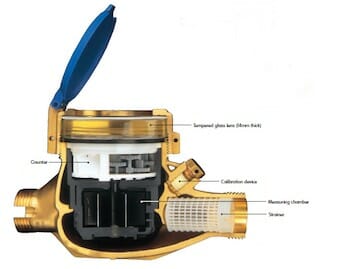 A cutaway of a standard traditional water meter with the impeller clearly visible.
Van der Linde confirmed that the problem does often arise when there is a break in the water supply and air gets into the pipework. He also explained that the majority of water meters use an impeller to measure the amount of water passing through the meter (see picture below). When there is a leak in the pipes delivering water to suburban properties, municipal workers have to shut off the water supply whilst the broken section of water supply pipe is being repaired. When the mains are reopened again, there can be a large amount of air that has entered the pipework.
Because water is denser than air, the air is compressed and passes through the pipe, and subsequently through the meter, very fast, making the impeller inside the meter literally spin out of control. Depending on the amount of air involved, this can cause your meter to run up an unreal, totally false water reading – which goes hand-in-hand with very high water bills.
New Pre-Paid Meters Problematic
An even greater problem arises from the "new" pre-paid water meters. According to van der Linde, there are more than 250,000 of these pre-paid meters already installed countrywide. The problem is that consumers have absolutely no recourse, as money for the meter must be paid up front, and in spite of your constitutional rights to water, if you are cut off, you simply have to top up the meter.
Nevertheless, we may be better off in South Africa than in other African countries that practice "water rationing".
What happens there is that the water is switched off during the day, and when it is turned back on, the air passing through the meter literally eats up all their money. The saddest part is that most of these people are in poorer African countries, and they cannot afford to keep paying for air!
Have I Been Paying for Air?
Anyone whose water bills suddenly increase for no apparent reason should note whether increased "usage" corresponds with burst water mains in the area.
While leasing a property in Somerset West several years ago, I noticed that the council water meter hadn't been touched for months. The fact that there was an ants' nest over the meter glass convinced me no readings had been done (see pic below). Just to cover myself I had taken photographs of the meter a few months apart, in September, November and again in February.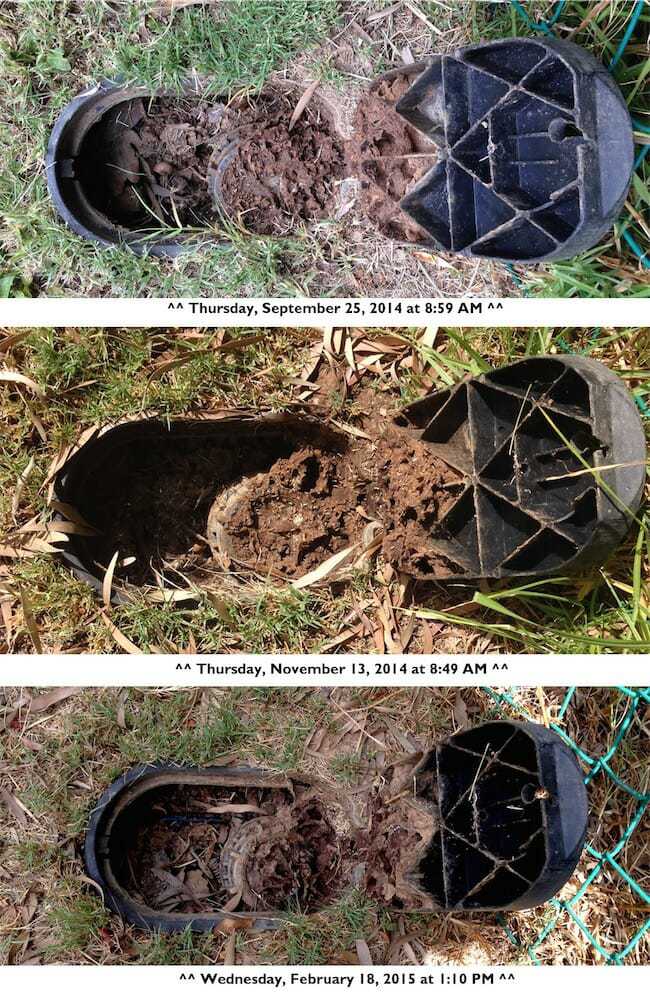 The average water bills per month for September, October and November were between R400 and R500. In December this increased to R965; in January to R1,181; and then in February it went up to R1,547.
After a fairly unpleasant conversation and emails with the landlord/estate agent who said that I had obviously watered the garden and filled up the swimming pool, which was not true, I approached the local council and local councillor. Nobody was interested in my problem, maintaining that the readings on the water bills were correct. Their explanation about the ants' nest was that after each reading by the council meter reader, the ants had come back and re-established their nest. They also maintained that there could be a leaking pipe on the property. They refused to investigate further, stating that the property owner was the only person who could deal with council on this issue. He refused and wasn't interested in doing his own investigation into possible leaking pipework.
I then cleaned the meter and shut off all the taps as well as the mains water for half a day to see if there was any usage on the meter. There was none, proving it was not a leaking pipe on the property. But in the end I was forced to pay up.
In retrospect, I realized that there had been a number of water "outages" during the periods when the water bills were so high. But unfortunately I realized this too late, and had to write the bills off to experience.
We subsequently moved to another area, in a different municipality and recently had two breaks in the water mains. I am waiting to see what the bill will be, and if it is any higher than usual, will take immediate action.
So What Should You Do?
My advice to anyone who has a break in their water supply, and notices air escaping through their taps when the water flow comes back and they turn the taps on, is make a note of the date and the time of the interruption, and if you are on a billing system (rather than a pre-paid meter), to challenge the council when you get your bill. If you have a pre-paid meter, challenge the council immediately.
SABS Assessing a New Water Meter That Won't Register Air
The good news is that he has a new meter that is currently being assessed by the SABS. This meter can register the density of whatever is passing through the pipes, and if it is not the density of water, it will not register and push up the meter reading.
But it's going to take a while for all the old meters to be replaced. So in the meantime, be vigilant.
Disconnection of electricity or water: Legal or illegal?
This article examines the legal issue of when a disconnection of electricity or water by a municipality will be lawful.
Dispelling the Myth
Many people think that a municipality is not entitled to disconnect one service if that service is fully paid up (but where another service is in arrears). This is not correct. A municipality is fully entitled to disconnect the supply of any service whatsoever supplied to a property, where there are undisputed arrears owing in connection with any other service billed in connection with that property.
Pre-Termination Notices
The law provides that a municipality must give the consumer (and the owner of the property, if the consumer of the services at the property is not the owner) a minimum of 14 days written notice of termination of the supply of electricity and water. If this notice is not given to the occupants of the property (and the owner, if the owner is not the same as the occupant) at all then the disconnection is illegal.
Furthermore if less than 14 days has elapsed between the date of delivery of the pre-termination notice and the date of disconnection, then similarly the disconnection is illegal.
The purpose of giving a person 14 days is to allow that person to respond to the municipality within that time and to raise any disputes about the charges that are purportedly owing, or alternatively to allow the responsible person to make payment of the arrears or make other payment arrangements with the municipality such as by entering into an instalment payment plan. If a consumer is denied this opportunity, then this is a violation of that person's rights in terms of our administrative law and Constitution and the disconnection is accordingly unlawful.
Pending Queries
It is unlawful for a municipality to disconnect a consumer whilst there is a query pending in relation to that consumer's account, provided that the quantum or value of the disputed charge equals or exceeds the amount of arrears on the account. For example, if you have lodged a query in relation to R50 000 of disputed water charges, but at present your bill is sitting at R100 000 (which include the R50 000 of disputed water charges and another R50 000 of other undisputed charges) then the query logged in relation to the disputed water charges will not protect you from disconnection because there are other arrears owing which are undisputed. You can legitimately be terminated for non-payment of undisputed arrears, even if you have raised a dispute in relation to other charges on the same account.
Payment of Current and Undisputed Charges
In terms of the bylaws of most municipalities, a query logged in relation to any municipal account will only remain valid for so long as the customer continues to pay the current and undisputed charges billed to it on a monthly basis. What this means is that if you fail to pay your current charges (or any portion of your current charges that are undisputed) you can be disconnected, even if you have an existing and unresolved query in relation to other disputed charges on your account.
In addition, some municipalities provide that where you dispute the charges billed on a monthly basis for any particular service (for example, electricity, perhaps because you are of the view that your meter is faulty or the charges are too high, being based on inflated estimated charges) you must then pay the average of the prior three month's undisputed charges for that service (i.e. the last time that you did not dispute your electricity charges, you take the average of three months for that service, and make payment of that amount for electricity rather than the amount currently billed to you) in addition to all other undisputed charges. Failure to make payment of current and undisputed charges in terms of the relevant by-laws/policies will render you subject to credit control action, which could include disconnection or being summonsed to court to pay.
Prior Owners' Debt
A recent case in the Gauteng Local Division of the High Court in Johannesburg offers persuasive authority (but does not create legal precedent) for the principal that a municipality may not terminate a purchaser's electricity or water supply as a result of outstanding debts incurred by the prior owner of the property. This principal has yet to be tested in court and so at the moment there is no conclusive answer to this question in law, although until another judgment settles the issue, there is at least persuasive authority to support purchasers battling with this issue.
Allocation of Payments
Although the manner in which payment is allocated to a municipal account is not directly linked to the issue of when a municipality is lawfully entitled to disconnect or not, it does impact on the legality of the disconnection indirectly. This is because if a consumer is disputing any portion of his account, and that consumer does not before making payment of any undisputed charges on that same account, notify the municipality in writing that the payment made must be allocated only to the undisputed charges, a municipality will then have the right in law to allocate that payment in any manner that it wishes.
This may (or may not) result in the consumer's payment (which he intended to be for undisputed charges) being allocated towards a portion of, and settling a portion, the disputed charges that the consumer was not intending to pay. When this happens a consumer will be very surprised by the advice given to him by the municipality that the dispute that he logged is no longer valid (it having been settled by his payment of the disputed charges), because he would be of the view that his dispute should be valid and pending seeing that he had continued to pay his current and undisputed charges on a monthly basis.
As a result the consumer's query will be closed (the disputed charges having been paid) and he would be liable to disconnection or other credit control action in respect of the unpaid current and undisputed charges which reflect as unpaid on the municipality's systems.
Conclusion
It is imperative that consumers understand and know their right in relation to disconnections and threats of disconnections made by the municipalities in respect of purported arrears in relation to municipal accounts. This simple knowledge may be sufficient to assist you in avoiding what could be a very pleasant, time consuming, and costly exercise, when having to deal with an illegal disconnection or your electricity or water supply.
House Without Approved Plans
The Implications of Selling a House
Without Approved Plans

If you are selling your house, and don't have approved plans, you could find yourself in a lot of trouble. And if you are buying a house, and don't ask whether the seller has approved plans, you might end up inheriting some very expensive problems.
Legal Implications of Selling a House Without Approved Plans
Since the law requires everybody to have plans drawn up in a particular manner, and approved by the local authority in their area, it stands to reason that every house will have plans. But this is not always the case, and a lack of approved building plans is clearly a major problem for many people buying and selling houses and other buildings in all parts of South Africa.
Hardly a day goes by that we don't get asked questions on this website that relate to issues concerning plans. Sometimes people only discover that there are no plans years after they have bought a property, either because they eventually want to do alterations, or because they want to sell. Other times people find at the point of sale that a house they are buying does not have plans, and they want to know whose responsibility it is to have plans drawn up retrospectively ("as built").
The reality is that if alterations and additions have been carried out on a property without municipal (local authority) approval and the property is then sold, it can become quite a complex legal matter.
An article by STBB Smith Tabata Buchanan Boyes that we have referenced gives some clarity about the implications of selling a house without approved plans.
Are Building Plans and Building Approval Always
Required for Houses?
As STBB explain, the National Building Regulations and Building Standards Act  specifies the need for building plans and approval. More specifically, it is the local authority that governs exactly what can be done in terms of its zoning regulations and the NBR. So it is they that give approval (or deny it) for all building work and renovations on ALL properties. "Minor building work"  is viewed differently and most municipalities will be more lenient when it comes to minor building work.
The Act states that the municipality, at its own discretion, may be approached for a relaxation of the necessity to obtain approval of plans. But note that this must be asked for and approval received in writing. 
How the Issue of "Voetstoets" Affects
Building Approval and Plans
The agreement made between two parties when a property is sold will in most instances include a voetstoets clause. Essentially this clause indicates that the purchaser accepts the risk relating to defects existing at the time of the sale, patent or latent (but not visible). The exceptions to this clause are instances where the seller deliberately and fraudulently conceals latent defects from the purchaser, that he or she was aware of at the time – in which case the seller will remain liable for these defects. But of course the purchaser will have to provide evidence that the seller knew what was wrong.
Note that the position is somewhat altered if the Consumer Protection Act applies to the agreement between the parties, e.g. where the seller is a developer.
Our law takes into account that any property with buildings erected without municipal approval is a property with a latent defect. The voetstoets clause will normally cover latent defects and a seller will not automatically attract liability if he sells a property with unauthorised building works. But if the seller knows that there are no plans and he organized and did the renovations himself, and he deliberately does not disclose this fact (with the intention to defraud the purchaser), the seller cannot hide behind the voetstoets clause.
Problems That Can Arise
The lack of approved plans could lead a municipality to refuse to allow any further renovations a purchaser might have had planned. In the worst case scenario the municipality could order that the illegally erected structure or additions be demolished.
A (latent or patent) defect that is of a significant nature, and affects the use and enjoyment of the property, does allow the purchaser certain remedies. The most far-reaching of these is cancellation of the agreement, which he is entitled to do, if the purchaser can prove that the defect is so serious that he would not have bought the property had he known this. Other courses of action include the reduction in purchase price or a claim for damages, depending on the seriousness of the defect and the specific circumstances involved.
In many cases an offer to purchase a house will be dependent on the purchaser obtaining home-loan finance from a bank or other institution. And in most instances, (though not all), the financial institution will want to see up-to-date approved plans before finance will be granted. If the plans lodged with council do not match the house as it stands, then the sale could fall through and set the seller's plans back for quite a length of time, together with additional costs to rectify the problem.
The local authority is also entitled to levy fines on any "illegal" building work that was done without approval.
There is more on the "Voetstoets Clause" and the CPA (Consumer Protection Act) 
Councils Must be Ruthless with Unsafe Buildings
Councils Must be Ruthless with Restricting Occupation of Unsafe Buildings
Lorna Court is situated on the corner of Twist and Wolmarans Streets in Joubert Park, Johannesburg, The building was built in the 1930s but was condemned after a fire in 2005. It's said that it's owners had no insurance but are not willing to sell the site.
I think it must be terrifying to be woken at 04:00 in the morning by a thunderclap that makes the whole building shudder. Then, in a confused state, you realise your bed's still shaking and, no, it wasn't thunder, it was the building falling down. Panic and fear – as you rush out of bed, out of a building, out into the streets. A balcony's fallen off. . . smashed on the pavement, fragments of stone, cement and bricks block your path and cut the bare feet on which you walk.
That's what at least one resident of the Blue Building, next to the old Junction Hotel in Salt River, experienced on Saturday night when the building started tumbling, crumbling down. Heavy rains may have contributed to its collapse – who knows.
But the authorities had condemned the building anyway and intended to demolish it sometime. The residents – the ones who crowded onto the rain-ridden streets in Cape Town's cold – had ignored the authorities. Ignored everyone except providence. And it was only providence that protected them. At least this time.
The Blue Building had been built in 1899, next door to the Junction Hotel in Junction Road and, through a lack of maintenance and simple old age, had steadily declined until it was ready to fall. Too tired of the winds, the rain and the desertion.
It's just one of many Cape Town buildings that have been identified as being unsafe. And yet, people kept living there – as they are living in many similar unsafe and abandoned buildings around the city and its suburbs.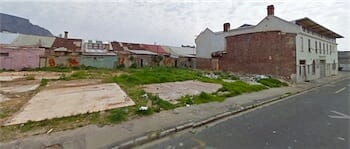 The now flattened site of the Blue Building next to the vacant Junction Hotel on the right.
Needless to say, the people who were living in the Blue Building had been without sewerage, electricity or water for months, but that didn't seem to faze them. They just used the first floor as a toilet and a rubbish dump. Eyewitness reports say the first floor was about a metre deep in rubbish and human excrement mixed with the cold rain from a roof that leaked all the time. A dilapidated building on the point of collapse and people still living there.
Perhaps this is a true measure of just how desperate the housing shortage is. People are desperate for shelter – any shelter, anywhere.
So what are the answers? It would be wonderful to wave a wand and give every Tom, Dick and Harry (and all their cousins, uncles, aunts and other hangers-on too) a nice new place in which to stay. But that's the stuff of dreams. And, anyway, what are "they" (and their cousins, uncles and aunts) doing to solve their own housing problems?
Concience-stricken welfare workers will doubtless point to how South Africa's is a heartless society that refuses to provide for its needy people. Maybe the welfare workers are right: maybe we are all heartless and uncaring. But I don't think so. My concerns are based on a different premise. Anyone of those people in the Blue Building could have done something to keep their own place running or, if it had reached such an atrocious condition that it was irreparable, then they could at least have made sure that they, along with everyone else, evacuated the place before it fell down.
But these people – the residents who have a vested interest in surviving through the night – just continued, willy-nilly, living in a place that was unsafe and unfit for human habitation. In fact they contributed to keeping it unfit for any kind of habitation by adding their own excrement to the growing pile on the first floor. What we actually find, in the Blue Building, is a group of residents who are doing nothing for themselves, or for the community in which they live and, for that alone, they are culpable. So before we turn around and point an accusing finger or five at the "authorities" for not taking action, or at the "wealthy" people of Constantia and Clifton for not supporting them, consider this: the people in the Blue Building were doing nothing at all to help themselves in the first place.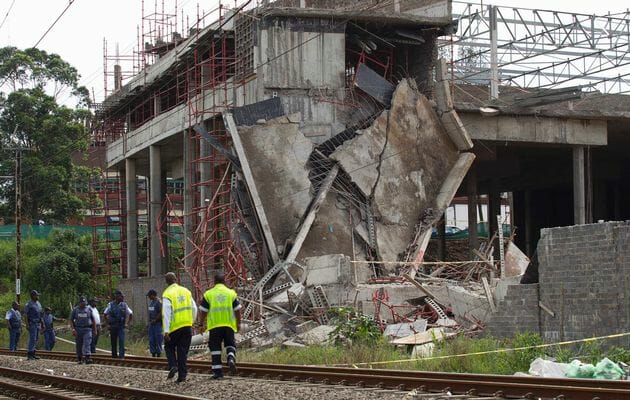 Just a reminder of how unsafe buildings can be , even new buildings, this is the Tongaat Mall collapse
Here's an interesting conundrum: if (or when) the authorities intervene and insist that people move out of a building that's too damaged to occupy, guess what happens? They (the people who evict the residents) are, most often saddled with finding "alternative accommodation" for them. We've seen exactly this scenario playing out in Schubart Park in Pretoria where, for more than a year now, the Tshwane Council has been trying to force people to leave buildings that can no longer be occupied. The residents demand that Tshwane provide alternative accommodation. So now the Tshwane Council has a problem: they say that it's not their responsibility to find alternative accommodation, but the residents say it is. A deadlock with some derision.
And the Constitution seems to side with the residents. My views – in these circumstances – are not politically correct but then I've always believed it's more important to save a life than be politically correct. My premise is based on an experience I had when I was a young man and watched a woman, who'd been rescued from the surf on a Wilderness beach, being refused medical attention because she'd lost her bikini top in the surf and her breasts were exposed. Rather than let a black paramedic treat the white woman who was dying and whose breasts were exposed, the group chose not to treat her until a white doctor arrived. A white doctor never made it – and yes, she died over something so silly.
Let's get back to the problem of illegal occupation of derelict buildings. I'm afraid that I'm on the side of the authorities and I believe it's their responsibility to evict illegal tenants (using the notorious Red Ants if necessary) before a building falls down or is razed to the ground. If the residents – in any illegally occupied building – want alternative accommodation, I say let's put them in those same tented refugee camps that we used to house victims of xenophobic attacks last year. Let them get on with it from there. At least their lives should be safe – or as safe as they can be in our South Africa today. I reckon it'll just take a few weeks before each one of those people has found somewhere else to live – without trying to force a council or a Department of Human Settlements to give them a house or an apartment for nothing. At the moment we have an uncomfortable picture: the indigent are doing nothing to help themselves and the authorities are doing nothing to get them out of derelict buildings because if they do then the indigent become the council's problem.
In our cities there are hundreds of buildings that have been condemned and yet the illegal occupancy continues unabated. Remember, just a few months ago, several people died when a condemned building caught fire in Johannesburg and the panic-stricken residents leapt to their death from the fifth floor windows. Showing a typical council response, Cape Town's Disaster Risk Management spokesman, Wilfred Solomons-Johannes, says the council doesn't own the building so it's the building owner's responsibility to find somewhere else for these people to stay.
What he's actually saying is: "Don't make your problems my problems" isn't he? Whether or not the building has been abandoned, the authorities must be held accountable if they do not take action to force people to leave a condemned place. The authorities (the police perhaps) must get them out of there. So Cape Town – and all the other councils too – cannot continue hiding behind the "private property" excuse anymore. They have a responsibility to the people of this country to evict those who live in sub-human conditions in buildings that have, most often, been hijacked from the original owners. When people's lives are threatened, immediate action is needed and if the authorities are not prepared to act then, I believe, they are culpable when a building collapses.
And if you think that Cape Town is an isolated case, then just wander through Hillbrow, Berea or Yeoville in Johannesburg. Or take a walk through the central city areas of Port Elizabeth, East London, Durban or Bloemfontein. You'll find many more derelict buildings occupied by illegal residents who, in most cases, have stripped the building of everything that protects lives. Stripped it of the cast iron sewerage pipes, the steel banisters for the stairs or the window frames that stop someone from tumbling off the seventh floor corridor in the rain. Get these people out of these buildings. Get them into tented camps. Get them anywhere where it is safe. And get them to understand that living in places like Schubart Park, or any other derelict building for that matter, is idiotic.
I wish somebody could get the residents to understand the perils of living in an unsafe building. I certainly can't, but maybe you can.
Town Planning Scheme – JHB
Consolidated Johannesburg
Town Planning Scheme, 2011

We have included this Johannesburg Town Planning Scheme document to assist you with accessing the the correct information so that you can make the right decisions when it comes to planning any construction, building and renovation or the purchase of property with developement in mind. This Town Planning Scheme applies to all properties within the municipal boundaries of the City of Johannesburg, as determined by the Municipal Demarcation Board.
This Town Planning Scheme is prepared in terms of the Town Planning and Townships Ordinance, Ordinance 15 of 1986, and is, subject to the provisions of section 3(4) of this Scheme. The Scheme relates to the area of jurisdiction of the City of Johannesburg:
a. Johannesburg Town Planning Scheme, 1979 (The clauses only )
b. Halfway House and Clayville Planning Scheme, 1976 (The clauses only)
c. Sandton Planning Scheme, 1980 (The clauses only)
d. Roodepoort Planning Scheme, 1987 (The clauses only)
e. Randburg Planning Scheme, 1976 (The clauses only)
f. Lenasia South East Planning Scheme, 1998 (The clauses only)
g. Modderfontein Planning Scheme, 1994 (The clause only)
h. Peri-urban Areas Town Planning Scheme, 1975 (The clauses only)
i. Southern Johannesburg Region Planning Scheme, 1979 (The clauses only)
j. Walkerville Planning Scheme, 1994 (The causes only)
k. Annexure F as per the Black Communities Development Act, Act 4 of 1984
l. Lethabong Planning Scheme, 1998 (The clauses only)
m. Westonaria Planning Scheme (The clauses only)
n. Alberton Planning Scheme (The clause only)
City of Cape Town Zoning Scheme Regulations

We have included this Cape Town Zoning Scheme Regulations document to assist you with accessing the the correct information so that you can make the right decisions when it comes to planning any construction, building and renovation or the purchase of property with developement in mind. This Town Planning Scheme applies to all properties within the municipal boundaries of the City of Cape Town, as determined by the Municipal Demarcation Board.
Chapter 1 contains introductory information, including the date when the zoning scheme became operative and the area to which it relates. The components of the zoning scheme and general purposes of zoning are described.
Chapter 2 deals with certain procedures and requirements relating to applications, decisions, conditions of approval, transitional provisions and methods of correcting errors on the zoning map.
Chapter 3 deals with general principles relating to the zoning and use of property, describing the difference between primary uses and consent uses. It also makes reference to uses not permitted and describes how temporary land uses should be dealt with.
The Zoning Categories covered are:
Single Residential Zones
General Residential Zones
Community Zones
Local Business Zones
General Business and Mixed Use Zones
Industrial Zones
Utility, Transport and National Port Zones
Open Space Zones
Agricultural, Rural and Limited Use Zones
Cape-Town-Zone-Scheme_Regulations_Nov_2012_Part1
Plans & Minor Building Work
You Don't Need Plans for Minor Building Work … But you DO Need Permission to Build
If this little 7.5 sq m garden building is to be used as a tool shed, you won't need plans. If it is to be used as a child's playhouse, you will.
Anything you build on your property needs plans, unless it is defined as "minor building work". However the Act states very clearly in Part A: General Principles and Requirements (this was previously Part A: Administration), that any structural building work that is defined as "minor building work" requires authorization by your local authority's building control officer before you can commence with any work. As long as you have made an application and have received the necessary permission from the local authority, you DO NOT NEED PLANS. But the law is also very clear in terms of compliance with the regulations; minor building work must comply with the regulations.
 Temporary Buildings
Temporary buildings also need authorization by the local authority. This includes builders' sheds, on-site toilets, and any other structure you might want to erect (or be obliged to erect) for the construction project.
The local authority will not give you permission to erect a temporary building until you provide certain information, and they are able to assess it. At very least they need to know:
what the intended use and life of the building will be
the area in which it is to be erected (in other words where you are planning to put it)
the availability of suitable materials from which it may be constructed
The Definition of "minor building work" in Terms of the Law
a) the erection of:
poultry houses (hoender hokke or chicken coups) that are no more than ten square metres in size,
aviaries that are no bigger than 20 square metres,
solid fuel stores (for storing wood, coal, anthracite or similar) that are no more than ten square metres in area and no higher than two metres,
tool sheds that are smaller than ten square metres,
childrens' playhouses that are no more than five square metres,
cycle sheds no more than five square metres,
greenhouses that are a maximum 15 square metres,
open-sided car, caravan or boat shelters or carports that do not exceed 40 square metres in size,
any freestanding wall built with masonry, concrete, steel, aluminum, or timber or any wire fence that does not exceed 1,8 m in height at any point above ground level and does not retain soil,
any pergola,
private swimming pool (although most local authorities do insist on plans),
change room at a private swimming pool not exceeding 10 sq m in area.
b) the replacement of a roof (or part of a roof) with the same or similar materials,
c) the conversion of a door into a window, or a window into a door, without increasing the width of the opening,
d) the making of an opening in a wall that doesn't affect the structural safety of the building concerned,
e) the partitioning or enlarging of any room by the erection or demolition of an internal wall, as long as it doesn't affect the structural safety of the building,
f) the section of any solar water heater not exceeding six square metres in area on any roof; or 12 square metres if the water heater is erected elsewhere,
g) the erection of any building that the local council doesn't believe plans are necessary for.
In the last instance, it is up to the building control officer to make this decision.
How This Affects You
We have had numerous queries on this site in terms of when and where plans are required. As you will see, there are a few exceptions, but ultimately it is up to the local authority to decide whether or not you need plans.
It also stands to reason that the structures defined as minor building work will all need to be fit for purpose. So you can't say you are building an aviary (which can be 20 square metres in area), and then build a brick building with windows, suitable for human habitation!
Boundary Lines,Walls & Fences
How far from the boundary wall must I build?
We get a number of questions asking "How close to the boundary am I (or my neighbour) allowed to build?" The site plan above is a sample and is only a guide to the approximate building lines and distances that the Building Regulations allow a house as well as other out-buildings to be built. All the measurements on the plan are in metres and show the distance from a road at the bottom and at the top, from a public open space. You will also see that the side measurements that go on to the neighbours properties is less than that for the road and the open space.
We must point out that this is just a guide. All properties have their own characteristics and features and the boundary distances may vary. You MUST check with your local authority even before you have plans drawn up to avoid having to re-draw and re-submit the plans again and incur extra delays and costs. There are roads, public open spaces and servitudes that all have their own unique set of boundary requirements. If you want to build within the specified building lines you will have to apply for a waiver to the local planning department. They will, more than likely, require you to get your neighbours consent in writing before you can get approval .
Planning House Extensions
Whether you are building a new home or planning house extensions to an existing home, you are going to need building approval from your local authority. Even if you are simply opening up a wall or partitioning a room by erecting a new internal wall, most councils will insist on working drawings.
A self contained flatlet has been added on over an existing double garage and a patio created on the flat concrete roof over the front entrance hall.
They won't worry about issues like matching materials or style, but they will consider all the elements that relate to building codes and building standards.
Extension Options
There are various ways that you can extend an existing house. For instance you can go up and create a second storey or opt for a more straightforward lateral extension. If the pitch of your roof is sufficient, you might be able to convert this into an attic room. Alternatively you could add a separate freestanding structure with a link to your existing house.
Having said that your local authority isn't going to be bothered with style, this is an element that is essential if the extension is going to look good. Materials should also match or look as though they have been chosen carefully. This means that if yours is a facebrick dwelling, the extension should be built using the same finish facebrick. If it is plastered and painted, it is best to match the paint colour. This isn't always as easy as it might seem, since paint colors fade and from time to time manufacturers change their specifications.
Planning for a Building Extension
Sometimes, but not always, people do plan for future extensions. This makes it a lot easier when it comes to adding on a room or converting space. As an example, where a future door is planned, building in a lintel at this point, and enclosing the door area with straight joints will make it easier to knock out the brickwork at a later stage. The fact that the bricks aren't bonded beneath the lintel won't be an issue, because the lintel will support those above.
Even so, you will need to be sure that the extension is correctly executed, with the correct foundations (unless of course you are going up, in which case you will need to have existing foundations that can take the weight of the new building extension), and where brick or block walls meet, these will need to be bonded, or joined in such a way that cracking will not affect the structure.
Types of House Extensions
These include:
building a core house and then adding to it later according to existing plans
converting a garage into extra living space
converting an attic into habitable space
constructing rooms in a roof where there is no existing attic
adding or converting a cellar
adding a conservatory, sunroom or pool room, usually with glass
In all instances it is essential to ensure that your new house extension complies with building standards.
Develop a Core House
If you are building and you don't have the means to build the size house you believe you need, an excellent solution is to build over a period of time. Thoughtfully designed, it will never look incomplete.
Below are three drawings that show how a core house (coloured yellow) may be added to over time.
In the first drawing, you can see that it is a simple, compact two-bedroomed home. Both bedrooms share a bathroom and they are both the same size. Each room has built-in cupboards and there is a laundry cupboard in the passage outside the bathroom. The living area is open plan, with a bar counter "dividing" the living space.
In the second drawing, the kitchen has been extended, in such a way that existing plumbing is used, even though the sink changes position. An exterior door is added, linking to a courtyard with a washing line, and to a double garage. One section of the garage incorporates a storeroom, adjacent to a loo with a basin, accessible from the courtyard.  The main bedroom is also included in this phase, although it could, of course, be built on later, since it is at the opposite side of the house. An en suite bathroom and more substantial cupboards are also included in the new plan.
In the third drawing, an open-plan lounge-dining room has been added (blue), along with a new entrance way and a guest loo. A swimming pool has also been included on the plan, though this could also be a separate phase.
Convert a Garage
This can be a very convenient and reasonably easy way to extend a house, although local authorities are usually strict in terms of upgrading the existing finishes. For instance you may need to have a ceiling installed, and lighting and ventilation might need to be upgraded.
Add a Sunroom, Pool Room or Conservatory
There are companies that specialize in glazed structure (or one where a polycarbonate material is used) that fit this category, though you can also have something designed and custom built.
Go into the Roof
Many older homes were built with attics that were intended to be used for storage. You might need to add windows and insulate the walls and ceilings to make the space habitable.
If there isn't an existing attic, and the roof is high pitched enough, you might consider building a room in the roof space. The basic concept is very similar to converting an attic, although structural alterations will be considerably more complex. If the pitch is not sufficient, you will have to extend the gable ends and increase the pitch of the roof.
In South Africa and other hot-climate countries, the roof space (and attic) in a house can become unbearably hot, so it is essential to pay attention to insulation.
Go Underground
Cellars are surprisingly uncommon in South Africa, but they are sometimes included in the design of a house, and may be added at a later stage providing the foundation walls are high enough. Generally it is easier to add a cellar where the house has been constructed on a slope.
Just remember that for a cellar to be converted into a habitable space (even if only as a playroom), it must be totally dry (there must be a damp-proof membrane between the brickwork and the soil beneath ground level) and have sufficient light and ventilation. Usually this will entail installing artificial ventilation and electric lighting.
What is an Occupancy Certificate?
An Occupancy Certificate is a document that is issued by the Building Control sub-directorate in accordance with the National Building Regulations to certify that a building has been completed in accordance with the approved building plan and all other relevant City Council requirements (for example, the installation of fire fighting equipment to the approval of the Fire Department, payment of all fees and contributions, approved water and electricity connections etc.).
Arrange with the Chief Building Inspector for your area for the issuing of an Occupancy Certificate once your building work is complete, a final inspection has been conducted by the Building Inspector, and all other Council requirements have, to the best of your knowledge, been complied with.
Occupation Certificates – who needs them?
An Occupation Certificate is compulsory for every building before occupation, as required by the National Building Regulations and Building Standards Act (1977).  This is to show that all requirements have been met and to safeguard the owner.
The Occupational Certificate specifies the type of building – freestanding, terraced, cluster complex, town house complex, apartment or commercial building. The Certificate is required before water and electricity deposits can be accepted for newly built properties.
It is against the law to occupy a property without 1) a full set of approved plans / planning permission from Council and 2) an Occupation Certificate.  An illegal / uninspected building is not insured, this could lead to substantial losses in the event of fire / flood etc.  After a month's grace to submit building plans – property owners can be fined up to R1000 a day for not complying with the Act.
In order to get an Occupation Certificate from Council you will need:
Approved building plans from the Municipality, plus any documentation from Town Planning regarding rezoning, building line relaxation, consent etc., and if necessary, an approved Site Development Plan (SDP).
Completion Certificate from a registered structural / civil engineer – this is for the foundations, concrete slabs, staircases, wooden / suspended floors, steel work, soofs, freestanding walls over 2.1m high, swimming pools and all structures built without prior planning permission.
Certificate (Roof Truss) – your truss supplier / installer should provide you with certification, alternatively consult your engineer.
IOPSA Certificate of Compliance (Institute of Plumbing South Africa) – this is required for all plumbing / drainage / sewerage work.  It can only be issued by a registered plumber – for more information visit www.iopsa.co.za
Glazing Certificate – your glazier will supply you with Certification.
Electrical Certificate of Compliance – this can only be issued by a registered Electrician.
Fire Certificate – this is required for all public buildings and buildings using flammable materials e.g. wood or thatch roofs.
To avoid delays / additional engineering fees etc. at the end of your building project – it is best to contact the Building Inspector prior to starting your building.  The Building Inspector will want to conduct the following inspections:
Trench / Foundation Inspection – prior to concrete being poured.
Wall / Structure Inspections – at floor level, lintel height and roof level.
Drain Inspection – before connection to the municipal water / sewerage system   and prior to infilling.
Concrete Slab inspection (if applicable) – before concrete poured.
Roof Inspection.
Your local Municipality, Builder or Architect will provide you with your Building Inspectors contact details.  It is best to call for appointments etc. before 10am whilst they are still in the office.
Once you have got your Occupation Certificate you will need to lodge copies with your bank (if the property is mortgaged) and your home / property insurance provider.  This will save a lot of time in the event of a fire / flood etc.
NATIONAL BUILDING REGULATIONS AND BUILDING STANDARDS ACT NO. 103 OF 1977
14 Certificates of Occupancy in Respect of Buildings(1) A local authority shall within 14 days after the owner of a building of which the erection has been completed, or any person having an interest therein, has requested it in writing to issue a certificate of occupancy in respect of such building-
(a)   issue such certificate of occupancy if it is of the opinion that such building has been erected in accordance with the provisions of this Act and the conditions on which approval was granted in terms of section 7, and if certificates issued in terms of the provisions of subsection (2) and where applicable, subsection (2A), in respect of such building have been submitted to it;
[Para. (a) substituted by s. 7 (a) of Act 62 of 1989.]
(b)   in writing notify such owner or person that it refuses to issue such certificate  of occupancy if it is not so satisfied or if a certificate has not been so issued and submitted to it.
(1A) The local authority may, at the request of the owner of the building or any other person having an interest therein, grant permission in writing to use the building before the issue of the certificate of occupancy referred to in subsection (1), for such period and on such conditions as may be specified in such permission, which period and conditions may be extended or altered, as the case may be, by such local authority.
[Sub-s. (1A) inserted by s. 7 (b) of Act 62 of 1989.]
(2) Any person licensed or authorized by a local authority to carry out the installation, alteration or repair of any electrical wiring connected or of which connection is desired with the electrical supply or distribution works of such local authority or any statutory body, shall, at the request of the owner of a building of which the erection has been completed or of any person having an interest therein or of the local authority, issue a certificate if he is satisfied that the electrical wiring and other electrical installations in such building are in accordance with the provisions of all applicable laws;[Sub-s. (2) substituted by s. 4 (a) of Act 49 of 1995.](2A) Upon completion of the erection or installation of-(a) the structural system; or(b) the fire protection system; or(c) the fire installation system,of any building the person appointed to design such system and to inspect the erection or installation, shall submit a certificate to the local authority indicating that such system has been designed and erected or installed in accordance with the application in respect of which approval was granted in terms of section 7.
[Sub-s. (2A) inserted by s. 7 (c) of Act 62 of 1989 and substituted by s. 4 (b) of Act 49 of 1995.]
(3) Any person who for the purposes of subsection (1)-
(a) submits a certificate contemplated in subsection (2) or (2A) which is substantially false or incorrect, knowing the same to be false or incorrect; or
(b) in a  fraudulent manner issues or obtains a certificate contemplated in subsection (2) or
(2A),shall be guilty of an offence.
[Sub-s. (3) substituted by s. 4 (c) of Act 49 of 1995.]
22 of 127 NATIONAL BUILDING REGULATIONS AND BUILDING STANDARDS ACT NO. 103 OF 1977 (as amended )
permits the occupation or use of such building-
(i)   unless a certificate of occupancy has been issued in terms of subsection (1)(a) in 
 respect of such building;
(ii)  except in so far as it is essential for the erection of such building;
(iii) during any period not being the period in respect of which such local authority has granted permission in writing for the occupation or use of such building or in contravention of any condition on which such permission has been granted; or,
(iv) otherwise than in such circumstances and on such conditions as may beprescribed by national building regulation, shall be guilty of an offence.
[Para. (b) deleted by s. 7 (d) of Act 62 of 1989.]
(5) The Minister may, on such conditions and for such period as he may think fit, by notice in the Gazette suspend the application of this section in the area of jurisdiction of any local authority.
Concourt rules new homeowners not liable for debts of previous owners
The highest court in SA has found against municipalities for wanting to make people cough up for debts that aren't theirs.
Municipalities cannot hold a new property owner liable for a previous owner's historical municipal debt, the Constitutional Court ruled on Tuesday.
The precedent-setting ruling gives relief to home and business owners, who have been saddled with years of historical municipal debt – dating back to 20 years – and have been denied municipal services until the debt had been paid. The outstanding debt includes water, electricity, rates and taxes charges associated with a property.
In a ruling majority written by Justice Edwin Cameron, the court found that upon transfer of a property, a new owner is not liable for old municipal debt. The court upheld a ruling by the high court in Pretoria in November last year – mainly the part stipulating that the liability of the old municipal debt rests with the previous owner.
Metropolitan municipalities of Tshwane and Ekurhuleni brought an application at the Constitutional Court to appeal the Pretoria High Court ruling.
The Banking Association of South Africa, commercial property financier Tuhf and the Ethekwini Metropolitan Municipality joined the matter as friends of the court.
The metropolitan municipalities of Tshwane, Ekurhuleni and Cooperative Governance and Traditional Affairs Minister Des van Rooyen were ordered to pay costs for the appeal application.
Giving municipalities the power to claim historic debt has implications for the banking industry.
In theory, municipalities would be the first to claim the debt from the proceeds of a property sale, which could result in banks not getting their money back. This would happen when the municipal debt and the amount owed to the bank is larger than the value achieved from the property sale.
Historically, a property was not allowed to be transferred to a new buyer until a municipal certificate that cleared debt spanning over two years was issued under section 118 (1) of the Municipal Systems Act.
However, debts that surpassed the two-year cut off became the liability of the new owner. If the owner failed to pay the debt, the municipality was then permitted to attach and sell the property to settle the debt.
At the heart of the appeal is the interpretation of section 118 (1) and (3) of the act. The act includes a security provision for historical debt to be incurred by the new owner, which municipalities used in their refusal to issue a clearance certificate during the sale of a property until all debts had been paid. This section of the act was declared unconstitutional by Judge Dawie Fourie at the High Court as it unjustifiably limited the property rights of new owners under the Constitution.
In its judgement, the court assessed common law factors that could impact on how section 118 (3) of the Municipal Systems Act can be interpreted in line with the Bill of Rights. Cameron said the sections of the Act must be interpreted so that historical debt is not transferred to the new owner.
It is on this basis that the court ruled that the section 118 (3) is "well capable of being interpreted " so that the historical debt is not transferred to a new owner of the property.  The court did not confirm the ruling by the High Court that sections of the Act were unconstitutional and invalid, as Cameron said the sections can be "properly and reasonably" interpreted without Constitutional objection.
Section 118 doesn't require a formal registration of the property's historical municipal debt with the Deeds Registry office when it's about to be transferred to a new owner.
"What is notable about section 118(3) is that the legislature did not require that the charge [historical debt] be either registered or noted on the register of deeds. Textually, there is no indication that the right given to municipalities has a third-party effect [to a new owner]… It [historical debt] stands alone, isolated and unsupported, without foundation or undergirding and with no express words carrying any suggestion that it [historical debt] is transmissible," he said in the judgement.
The respondents in the matter argued that making a new owner liable for historical debt could prejudice new homeowners and promote the deprivation of property, in line with the prescripts of the Bill of Rights. Cameron held this view, saying if the debt survives the transfer to the new owner under section 118(3), "there could be a significant deprivation of property".
Read the full judgment below:
CONSTITUTIONAL COURT OF SOUTH AFRICA
Chantelle Jordaan and Others v City of Tshwane Metropolitan Municipality and Others; City of Tshwane Metropolitan Municipality and Others v Chantelle Jordaan and Others; Billie Ann Livanos v Ekurhuleni Metropolitan Municipality
CCT 283/16
CCT 293/16
CCT 294/16
Date of Judgment: 29 August 2017
__________________________________________________________________
MEDIA SUMMARY
__________________________________________________________________
The following explanatory note is provided to assist the media in reporting this case and is not binding on the Constitutional Court or any member of the Court.
Today the Constitutional Court handed down judgment in an application for confirmation of an order by the High Court of South Africa, Gauteng Division: Pretoria (High Court) that declared section 118(3) of the Local Government: Municipal Systems Act, 2000 constitutionally invalid. This section provides that an amount due for municipal services rendered on any property is a charge upon that property and enjoys preference over any mortgage bond registered against the property.
The matter came before the High Court after the City of Tshwane and Ekurhuleni municipalities suspended, or refused to contract for the supply of, municipal services to the applicants' properties. This was on the basis that the applicants, who are relatively recent transferees of municipal properties, owe the municipalities for municipal services rendered to these properties before transfer. In other words, the municipalities required these new owners to pay historical municipal debts. The applicants complained that they faced darkness, having no electricity, and many other inhumane conditions because they bought property whose previous owners failed to meet their obligations to the municipality – and against whom the municipality failed to enforce its rights in fulfilment of its constitutional obligations.
The High Court found section 118(3) constitutionally invalid, to the extent only that it has the effect of transferring to new or subsequent owners municipal debts incurred before transfer. The High Court found this to be an arbitrary deprivation of property in terms of section 25 of the Constitution. It said that new owners of property are not liable for municipal debts incurred by previous owners. Therefore municipalities may not sell the property in execution to recover the debt or refuse to supply municipal services on account of outstanding historical debts.
In considering whether to confirm the High Court's declaration of constitutional invalidity, this Court had to determine whether the provision, properly interpreted, in fact means that, when a new owner takes transfer of a property, the property remains burdened with the debts a previous owner incurred. If the provision was capable of an interpretation that did not impose constitutionally invalid consequences, the High Court's declaration of constitutional invalidity would be unnecessary.
Before this Court, Tshwane, Ekurhuleni and now eThekwini municipality, which was admitted as amicus curiae (a friend of the Court), contended that a proper construction of section 118(3) was that the charge survives transfer. They argued that for municipalities to properly fulfil their constitutional duties of service delivery, in the greater good, they needed extra-ordinary debt collecting measures. This meant burdening new owners with the responsibility for historical debts. Both in the High Court and in this Court, the Minister of Cooperative Governance and Traditional Affairs also presented argument in support of the municipalities' stand.
The municipalities however conceded that nothing prevented them from enforcing their claims for historical debts against those who incurred them, namely the previous owners. The municipalities conceded further that their powers included interdicting any impending transfer to a new owner by obtaining an interdict against the old, indebted owner, until the debts were paid.
Also admitted as amici curiae were the social housing organisation, TUHF Ltd (TUHF); The Banking Association of South Africa (BASA), an association with thirty-two member banks and the Johannesburg Attorneys Association (JAA). TUHF and BASA associated themselves with the applicants in challenging the meaning the municipalities ascribed to section 118(3). They advanced further arguments including that section 118(3) permitted arbitrary deprivation of not just the new owner's property rights, but of real security rights the new owner confers on any mortgagee who extends a fresh loan on the security of the property post-transfer. The JAA focused on a conveyancer's duties and ethical position should this Court hold that the section 118(3) right survives transfer.
In a unanimous judgment, penned by Cameron J, this Court weighed the historical, linguistic and common law factors bearing on how the provision should be understood, plus the need to interpret it compatibly with the Bill of Rights.
The Court held that the provision is well capable of being interpreted so that the charge does not survive transfer. Indeed, it must be so interpreted. The Court held that a mere statutory provision, without more, that a claim for a specified debt is a "charge" upon immovable property does not make that charge transmissible to successors in title of the property. Public formalisation of the charge is required (e.g. registration in the Deeds Registry) so as to give notice of its creation to the world.
Section 118 does not require this public formalisation process. In any event, the Bill of Rights prohibits arbitrary deprivation of property, which would happen if debts without historical limit are imposed on a new owner of municipal property.
Therefore, to avoid unjustified arbitrariness in violation of 25(1) of the Bill of Rights, the Court held that section 118(3) must be interpreted so that the charge it imposes does not survive transfer to a new owner.
In the result, the Court held that, because section 118(3) can properly and reasonably be interpreted without constitutional objection, it is not necessary to confirm the High Court's declaration of invalidity. For clarity, the Court, however, granted the applicants a declaration that the charge does not survive transfer.
As this represents a victory in substance for the applicants, the Court held that the municipalities and the Minister should pay the applicants' costs, including the costs of two counsel.
PRESCRIPTION OF MUNICIPAL DEBT
Prescription of municipal debt
On 13 February 2017, in the case of Argent Industrial Investment (Pty) Ltd and Ekurhuleni Metropolitan Municipality, the court had to rule on whether the municipality's claim for water consumption had prescribed.
The court concluded that If a consumer receives a utility bill reflecting, for the first time, charges older than three years, it cannot be held liable for such amounts, as the charges have prescribed.
It is not the duty of the consumer to read meters and determine their actual consumption. As a result, a consumer will not be considered to have acknowledged a debt when the municipality has failed to provide details.
The Facts:
Between September 2009 and March 2015, the applicant (Argent) was charged, and paid, for estimated water consumption. The meter installed at the applicant's premises was not read between 21 September 2009 and 13 March 2015. After the meter was read on 13 March 2015, the applicant was billed R1 152 666.98 for the difference between its actual usage and the estimated consumption for which it had already paid, during the period September 2009 and March 2015, almost six years. The applicant then raised a dispute regarding the charges for usage that had occurred more than 3 years before that date.
The applicant did not dispute that it had consumed the water reflected by the meter reading in March 2015. Its only contention was that its obligation to pay for any consumption more than three years before that date had already prescribed by the time the respondent (the municipality) presented the applicant with its invoice.
The respondent did not proffer any reason, on the papers, why no meter reading was taken between September 2009 and March 2015.
The respondent argued that the consumer is never released from its obligation to pay when the respondent has not issued an invoice or otherwise informed the consumer of the charges which it has incurred (because of several acts, notably the Local Government: Municipal Systems Act, and the Ekurhuleni Metropolitan Municipality Credit Control and Debt Collection Policy 2015/16). Further, that that monthly payments constituted an acknowledgment of debt, and an amount due and payable by a consumer is a consolidated debt, and that any payment into the account will be allocated to that consolidated debt as determined by the respondent.
The Prescription Act, 68 of 1969 ("the Prescription Act") provides that:
a debt is extinguished after the lapse of three years;
prescription starts to run as soon as the debt is due;
prescription does not commence to run until the creditor is aware of the existence of the debt, but only if the debtor has wilfully prevented the creditor from becoming aware of the debt;
a debt is only due when the creditor has knowledge of the identity of the debtor and the facts giving rise to the debt, but if a creditor could have acquired that knowledge by exercising reasonable care, the creditor is deemed to have that knowledge, and
the running of prescription is interrupted by an acknowledgement of debt or by the issue of process.
The respondent relied on section 12(3) of the Prescription Act for the contention that it was only when the meter was read and the invoice issued that the respondent, the creditor, became aware of the facts giving rise to the debt.
The Judgment:
The court found that the respondent had a duty to take reasonable steps to collect what was due to it. In any event, the respondent had knowledge of the relevant facts. At all times, the respondent was aware that it was supplying water to the applicant. It was aware of the applicant's identity. It was clear from the fact that the applicant was paying an estimate each month, if from nothing else, that the respondent had not read the meter on the applicant's property. These are the facts giving rise to the debt. The only "fact" of which the respondent did not have knowledge was the exact consumption of the applicant, and this was knowledge within the respondent's reach, had it simply fulfilled its functions.
On that basis, it found that the claim over three years only had prescribed, and ordered the respondent to reverse all charges (plus interest and legal fees, thereon) raised before March 2012. It also prevented the respondent from terminating services because applicant had not paid the amounts added to the applicant's account in the invoice of 24 March 2015.
The respondent was ordered to pay the costs of the application.
A Guide To Understanding Your Municipal Bill
Municipality bills are often a nightmare to decipher. You might not be entirely sure what you're being charged and why – so we put together a handy guide to help you avoid any pitfalls.
The dreaded municipal bill is a key form of communication between local government and its citizens. Just how effective this communication is can be determined almost entirely by the consumer's understanding of that municipal invoice.
Therein lies the problem. Here in South Africa, invoices just aren't standardised, despite repeated efforts to get this rectified. Municipal bills are often:
Barely legible;
Barely understandable;
Non user-friendly;
Non customer-orientated;
Nausea inducing, if you stare at them for too long.
There's no shame in admitting that most of us just don't understand these bills. We know for sure that we're being robbed in some foul way, but we don't know how. 
This lack of understanding is dangerous, for reasons both obvious and dubious, and the previous paragraph is a prime example of why.
It breeds distrust. We don't know if what we're seeing is correct. We refuse to pay. 
And this, coupled with large amounts of government incompetence and a 90k KFC bill, is why our municipalities are drowning in debt.  
Furthermore, all the obfuscation has a negative effect on the customer's awareness and regulation of use, and does little to reduce our energy and water footprint. Bearing in mind that no two municipalities issue identical bills, there's almost no information on consumption, no communication on conservation and nothing is learnt.
Until these invoices improve, they will never function as intended and customers will continue to struggle in fully understanding them.   
So, let's take a look at the problem with municipal bills, and see if we can break them down. 
Firstly, What Is This Bill About?
Most South Africans should know all about municipal bills. If you live in a house and have access to electricity, water and waste removal services, then you should receive a monthly bill from your local municipality, the amount payable depending on your usage.
As previously stated, no two municipalities issue identical bills, but all of the basic information should remain the same.
This information should include:
Your name and address;
The invoice and VAT number;
Your account number – used as reference for when you make payment;
Contact details for the municipality, as well as the VAT numbers for all service providers;
The date, which indicates the month owing. You should always check this to ensure that you are paying for the correct statement;
The total amount due, as well as the due date. If you're being invoiced for January, for example, your due date would be before the end of January;
A PIN, used if you would like to access the electronic version of your invoice;
Most invoices should issue you with itemised billing – meaning that the cost of each and every service is laid out clearly. Some municipalities, however, do not do this, and it's incredibly irritating. We'll go into this a little more below.
One of the biggest problems, as mentioned at the beginning of this article, is that consumers just don't understand what's happening on the invoice. You may be provided with a bunch of information, but there's no way to decipher it. Worse yet, with the state of government as it is, it's safe to assume that every now and then you'll be billed incorrectly.  
The Problem With Municipal Bills
High municipal bills have been irritating South Africans for some time, particularly in Cape Town with the water problems. So, it's imperative that we understand the bill we're receiving, and know what we're paying for. The ordinary South African struggles to find the right information on a municipal invoice. While the basics may be there, we may find it illegible or confusing. Some info you may be searching for, but unable to find, could include:
Amount owed from previous months;
The date of the meter reading;
Water usage. Yes, believe it or not, some invoices just don't tell you how much you've used.
Some other elements which make the invoice confusing:
The use of numbers without the unit, such as R or Kl – leaving the consumer to wonder if what they're reading is an amount owed or an amount used;
Some might not understand the difference between Litres and Kilolitres;
The use of codes which are entirely meaningless to the customer;
Usage of acronyms or abbreviations which nobody understands, such as w, cons, bas or char;
Even the most educated of consumers may find it difficult to figure out the meaning of certain terms, such as remittance advice, rebate, opening balance, balance brought forward, etc. 
Understanding Terminology On Municipal Bills
Something else to note is that not all municipalities will bundle water, electricity and other charges, such as refuse removal, onto one bill. Sometimes, you'll receive more than one invoice, and just like municipal bills will differ in appearance from city to city, they also make use of different terminology. Which is senseless, but nonetheless…
Here are some of the main terms you need to understand.
Arrears / Opening Balance – This is the amount you owe before the current month has been added. In other words, it' the balance brought forward from a previous invoice. If you haven't paid your last bill, the opening balance will be the amount still owed. If you have paid your bills, the opening balance should be R0.00.
Current Amount Owed – The amount owed for the current month.
Total Liability / Closing Balance – This is the total amount owed after all of the current month's expenses have been tallied. It should include the arrears owed, as well as the current month. It may or may not include VAT or any other charges, so be sure to check.
Credit – Money paid into your account, or money owed to you by the Municipality. Say for instance you over paid on your last invoice – you owed R300.00 but paid R400.00 – then that means you'll have a credit of R100 going into the next month. 
Meter Readings
Before we get into the actual invoice, it's also important to note that, in South Africa, we receive two types of billing on electricity. metered and pre-paid.
With the metered system, you use electricity and you're then billed accordingly. The amount you use is counted by an electricity meter – a small box found either inside or outside your property. 
Once a month, a meter reader is supposed come to your house and make a note of your electricity usage, and after that reading is uploaded into the system, you'll receive a bill. If you're lucky, the meter readers might actually do their jobs properly. 
With the pre-paid system, you buy electricity much the same way as you would buy airtime for your phone. You can then load this into the special meter in your home. Unlike the aforementioned meter, a pre-paid meter counts downwards, to show you how many units you have left.
These units are called Kilowatt Hours (kWh) and each kWh is charged according to set rates. 
Because nobody from the municipality reads this pre-paid meter, and because you've already paid for your electricity, you won't receive a bill for it. 
One more thing to remember is that the more electricity you use, the more you'll pay per kWh, and pre-paid electricity is commonly more affordable than metered. Plus, you can remove human error from the equation – provided that you remember to buy your vouchers.  
Municipal Bill Explained – Part 1
Below, we have the example of a municipal bill issued by the City of Johannesburg.
There are two parts
Basic information contained within this bill includes (1) the name of the property owner, the address, the size and estimated value of the property (2) and also the date of that valuation. This last part is noteworthy because basic municipal rates take the size of your property into account, as well as the area in which it is situated. 
There is also the invoice number (3) – which you'll need to query the invoice – and your municipal account number (4) – used as a reference number.  
At (5) you'll find the relevant contact information at (6) the VAT numbers of the municipal departments providing service.
The date on which the invoice was issued is found at (7). 
At the bottom of the page you'll find the EasyPay number (8), which you can use to pay your bill at special EasyPay machines in various outlets, and the municipality's banking details (9).
The total amount due can be found in detail in the middle of the page, but also at the bottom right (10) with the due date. You'll note that it gives you the previous amount owed, minus the amount last paid, and the current amount owed. 
Finally, at (11) you'll find a special PIN to use when accessing your account online.  
Municipal Bill Explained – Part 2
Now we move on to the reverse side of this same bill, in which the services you have made use of are broken down by section – with itemised billing.

 Here we have six different sections. Property Rates, Electricity, Water & Sanitation, Refuse, Sundries and Current Charges.
Property Rates (12) shows you what your basic municipal rates will be for the month, determined by the size, location and value of your property. 
Electricity (13) shows how much you owe for electricity used and Water & Sanitation (14) shows how much you owe for usage and services rendered. Both of these detail how many kWh and Kl you have used, as well as the rate per unit. 
Of course, Refuse Removal needs to be paid, and this can be found at (15).
Finally, at (16) you will find the total amount due for these services – and this amount should correspond to the Current Amount due on the first page.
We've used an invoice by the City of Johannesburg because it is one of the best. The information is precise and laid out in a clear way. Easy to understand. 
Other invoices, such as those issued by the Matjhabeng, Amathole, eMalahleni or Msunduzi municipalities are often an absolute nightmare to decipher. They're unclear, jumbled, convoluted and idiotic, with a bunch of abbreviations nobody understands. 
So, it's easy to become confused. But – if you familiarise yourself with the examples above, the others are a lot easier to comprehend. All you need is patience. A lot of patience. 
WHO'S LIABLE FOR RATES OF NEWLY SUBDIVIDED LAND?
A recent case between a developer and municipality threw up –